The Republic of Benin, formerly known as Dahomey, has emerged as a beacon of democracy and is one of West Africa's most stable nations and shares land borders with Nigeria, Togo, Niger, and Burkina-Faso. The capital city is Porto-Novo. Benin has a population of 7.1 million and an area of 112,622 sq km (43,484 sq miles), with more than 50 ethnic groups. Many of the wide variety of tourist attractions are still largely untapped and even at their raw states, they are still being enjoyed by few outsiders, either very rich visitors in quest of exoticism or adventurous people in search of new challenges and experiences.
The Beninese architectural heritage is composed of a diversity of dwelling types of which the most famous is the one commonly known as Tata Somba. The Atacora region ethnics adopted this type of architecture with specific details to each. So, the Somba people are known for their particular methods of construction and their rich traditions. Their homes resemble small castles. They often have a variety of floors and very thick walls, which apparently are to help keep intruders out.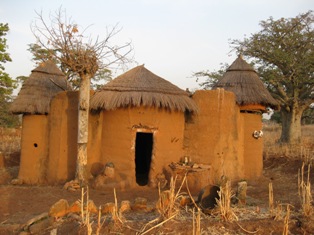 Their villages are constructed in contrast to what is considered a more typical way of building in Africa, as the houses are built far apart from each other spread out over the land, rather than close together.
Nowadays, Tata Somba dwellings are veritable witnesses of the past and the first identity of the Somba ethnic. However they have begun to copy modern cities and methods of construction and now the combed oblong slots of sheet metal leaves being developed at a high rate in the region. This has caused the traditional dwellings to be abandoned and means that there is a high risk of these long-established techniques being forgotten. To deal efficiently with the situation, in 2006 Benin Ecotourism Concern conducted a survey. The findings stated the need to include as part of the ecotourism scheme, some existing Tata Somba dwellings. Eco-Benin's goal is to ensuring better living standards of communities at local and national level through ecotourism and eco-development promotion as a sustainable management of natural resources.
Because of the lack of appropriate financial resources to start ecotourism development in this region, Eco-Benin established a partnership with a foreign French Association called Planète Urgence which used to send volunteers to Eco-Benin to work in the field for training and communities' empowerment. In 2007, Eco-Benin has set up a community-based organisation called "la Perle de l'Atacora" in Koussoukoingou village to lead the development of ecotourism products owned and managed by villagers.
The Koussoukoingou village is one of cultural sites in Benin that benefit from a notoriety in travel guidebooks in West Africa. 3 years ago, the Belvedere lodge, which was built and managed by the Tourism Ministry (public sector) was closed. The local populations then took control of the organization of sustainable community-based ecotourism with the technical support of Eco-Benin.
As part of this project, 22 traditional Tata Somba were included, and 5 were prepared for use as tourist lodgings. There were several trainings schemes, culminating with the establishment of 3 itineraries, 5 home-stays in tata Somba, 10 tours guides, 2 cooks, 4 handicrafts producers and entertainment activities. By providing vocational training courses to a number of rural agricultural producers, the project improves their competitiveness in terms of production while helping them to benefit from tourism activities by selling crops.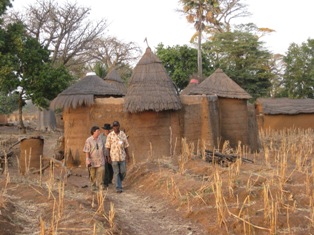 Tata Somba owners were trained and empowered to host tourists in their traditional Tata and tour guides were also supported with hiking materials. This activity permitted the whole household to win money from the tourist services. While the husband is entitled to 70% of the revenue, the wife receives 20% of the amount for her work during the tourist stay and the remaining 10 % goes to the local association and the village. As a marketing tool, a website has been created for these services and can be found online at www.ecobenin.org/koussoukoingou.
In December 2007, the marketing campaign began and the village has already hosted up to 1100 tourists. However, the availability of additional housing for the tourists constitutes the major problem for the long-term stay of the visitors. After discussion between the two parties (community and Eco-Benin) it was decided to construct new Tata Somba with the traditional architecture. The fundraising activities for this new construction are on-going.
On other hand, community members built two Tata Somba dwellings in February 2008 where none had been built for 30 years. The owners of these new Tata Somba have already joined the association to offer home-stay to tourists. So, this project will continue stimulating the conservation of local cultural traditions by demonstrating the added value that can be gained. The ultimate goal of the project is to help in rehabilitating some types of tata somba which have disappeared in the region. This has also been noticed in regard to the local handicraft activities, which are again being taken more seriously by the villagers. Additionally, the financial contribution to local development last year, helped the school to pay for books and dictionaries. In addition to this, the village has improved water access and benefited from toilets in 2008 as their tourism activities impacts.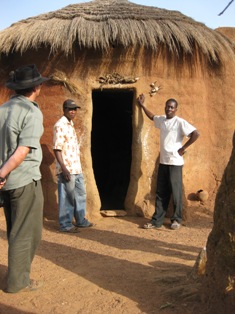 In October 2008, two members of the village Association attended some great events such as the third International Forum on Solidarity-based Tourism (FITS) in Bamako (Mali) and the West African Travel Market (MBOKA 2008) in Banjul (Gambia).
By bringing responsible tourists to Koussoukoingou village, the project has set up social interaction that is powerful in its implications and to date has managed to establish a framework of community-based ecotourism that makes the process cautiously and sensitively. Regarding the current touristic interest for these houses with its income generating to local communities, Eco-Benin is working to make them being recognized as UNESCO Heritage in Benin.
Gautier K. AMOUSSOU

Hermione BOKO

Benin Ecotourism Concern (Eco-Benin)